You become a Dementia Friend by attending a one-hour informational session to learn about living with dementia, and the simple things you can do to support someone living with the disease.
What Happens at the Information Session?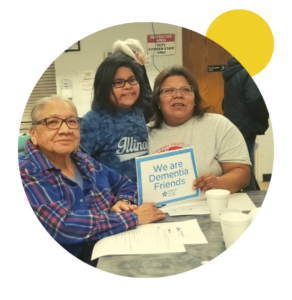 The free one-hour session is a discussion led by a Dementia Friends Champion. You'll learn some basics of dementia such as what dementia is, what it's like to live with the disease, and some tips for communicating with people who have dementia. Everyone who attends is asked to turn their new understanding of dementia into a practical action that can help someone living in your community. The action can be as big or as small as you choose—every action counts!
Remember…You don't need to be a dementia expert or know someone with dementia to become a Dementia Friend. All you need to do is attend the one hour information session to become a Dementia Friend!
List of Upcoming Public Dementia Friends Sessions:
UNI Dementia Simulation House (in-person) – Monday, February 13 (11am)
Zoom- Wednesday, February 15 (9am)
Zoom– Thursday, February 23 (10am)
Zoom- Tuesday, February 28 (6pm)
Zoom- Monday, March 20 (11am)
Don't see a time that works for you or your group? Email mzimmerman@nei3a.org to inquire about scheduling a special session for your group or organization.