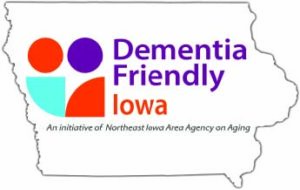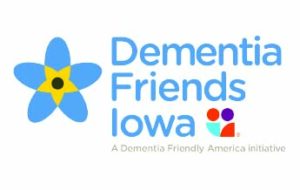 Dementia Friendly Iowa promotes change and education in communities across Iowa to create a more informed, safe, and respectful place for people living with dementia and their caregivers. According to the Alzheimer's Association, at least 66,000 people are living with dementia in Iowa, and this number is expected to grow to at least 73,000 by 2025.
As the number of people living with dementia in our state increases, so must public awareness and ability to serve this population in the state of Iowa.
Dementia Friendly Iowa seeks to make the state more dementia friendly through two initiatives- Dementia Friends and Dementia Friendly Communities. The movement is part of the greater Dementia Friendly America movement, and it is locally supported by the Northeast Iowa Area Agency on Aging (NEI3A), Iowa Association of Area Agencies on Aging (I4a), and the Iowa Geriatric Education Center. The initiative is staffed by NEI3A. The program launched statewide in July 2021.
Get connected! Sign up for our quarterly e-newsletter or read past editions here: