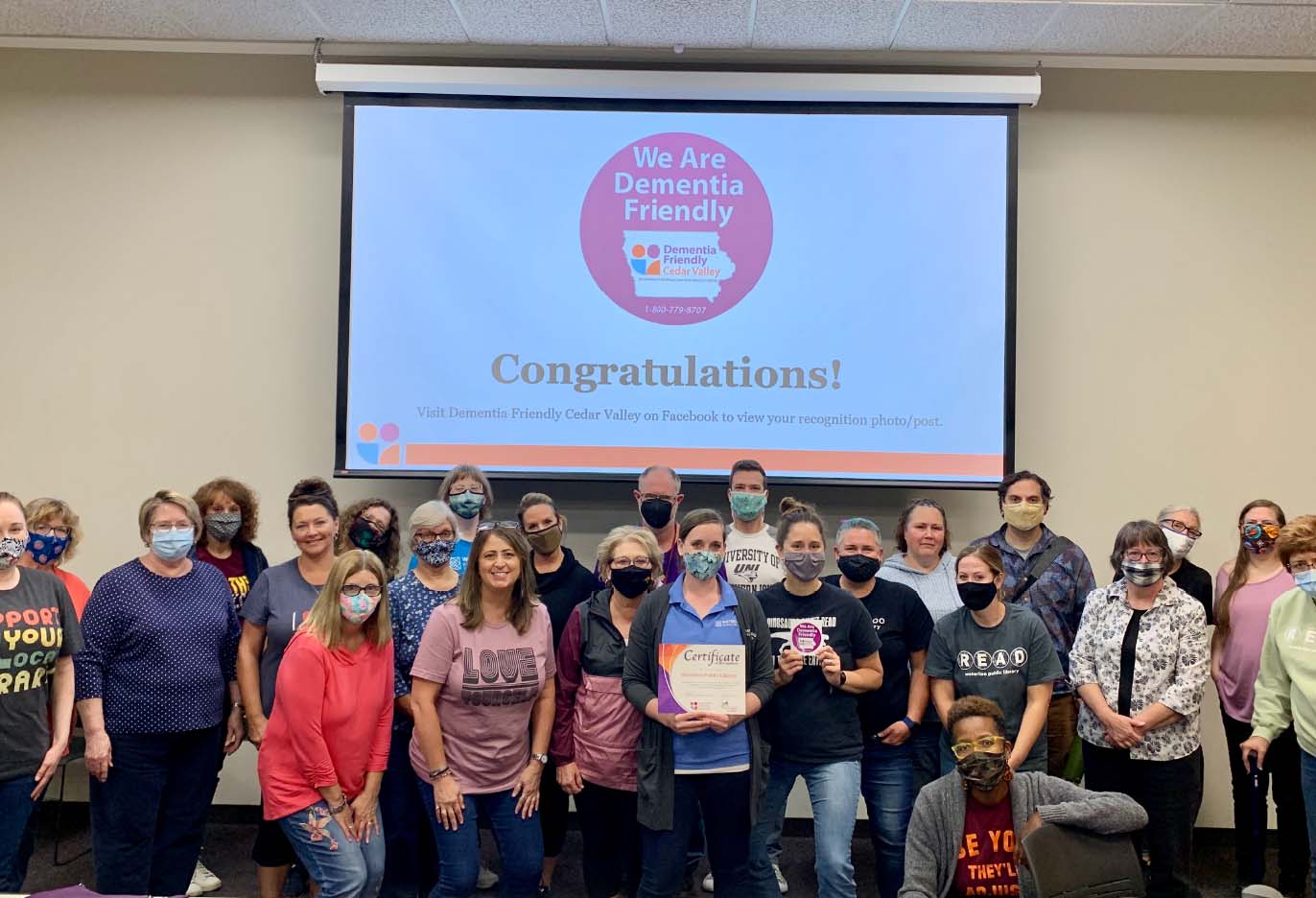 What is the process of building a more Dementia Friendly Community and joining the Dementia Friendly America network? 
Special Event: 
Are you…
Hoping to see your town or county become recognized as the next dementia friendly community in Iowa?
Feeling a little stuck in the process?
Interested in learning more about the initiative in general?
Seeking some inspiration for actions you could take in your community?
This Becoming a Dementia Friendly Community: FAQ Session might be for you! Join Megan Zimmerman, Dementia Friendly State Coordinator on Zoom on Monday, November 14 from 12-1pm to learn more.  Register for the session here.
In Iowa, three communities have official Dementia Friendly Community initiatives underway: Cedar Valley, Vinton, and Maquoketa. Several other areas have started to engage in the process of launching an initiative, including Johnson County and Dubuque. Learn more on this webinar!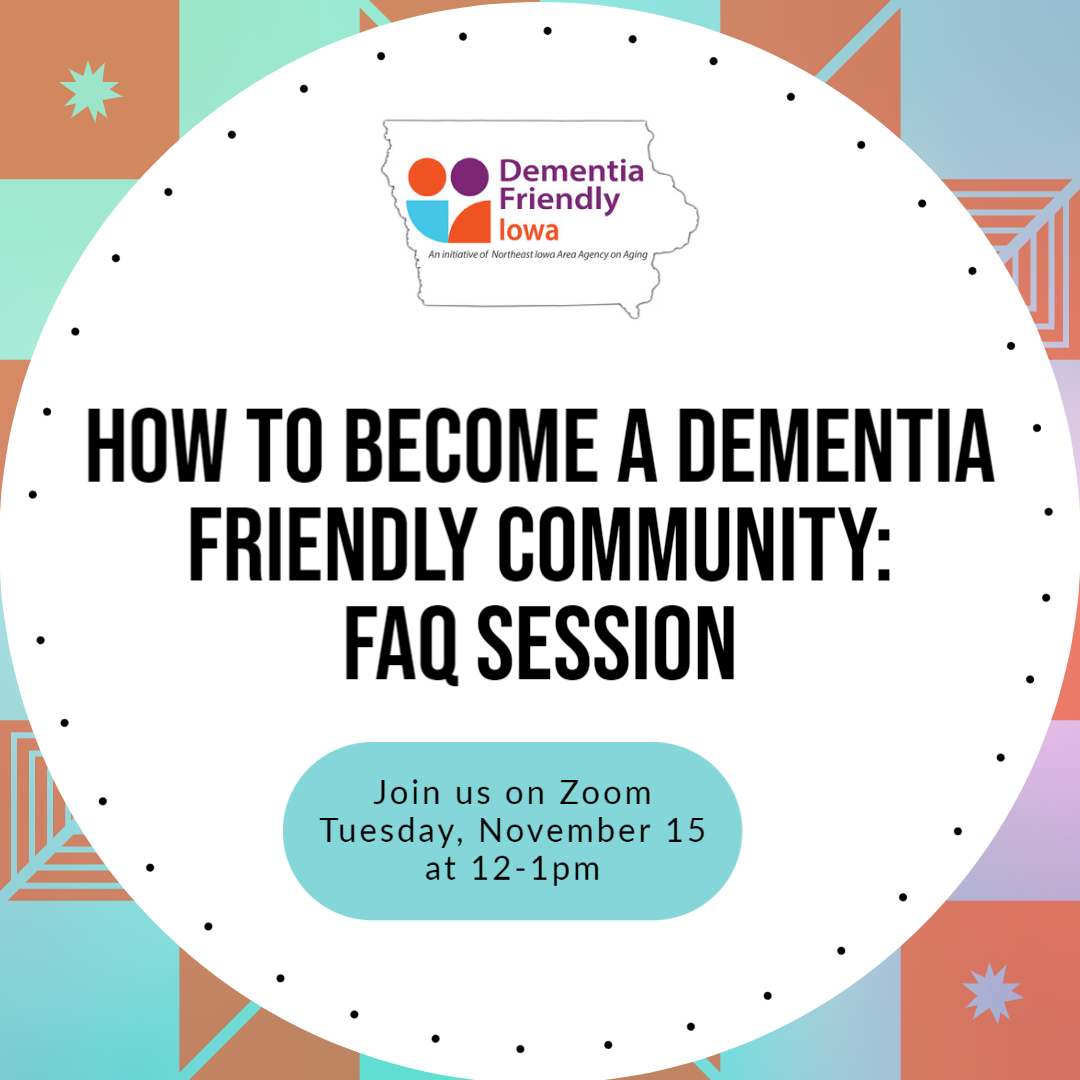 _______________________________________________________________________________
Listed below is a simplified process is derived from the process suggested by Dementia Friendly America.
It is recommended that any interested community explore the Dementia Friendly America website as it provides helpful insight to the process, including readiness and recognition criteria.
Complete this form. Collect three or more letters of support representing different community sectors as well as a letter of support from state lead (Megan Zimmerman, NEI3A- mzimmerman@nei3a.org). When completed, send to info@dfamerica.org .
Process for Building a Dementia Friendly Community
Build a community action team; include people living with dementia
Identifying a community lead (local point person) for the action team is key! Click here for a Community Lead Role Description
Join the Dementia Friendly America network by submitting application and letters mentioned above.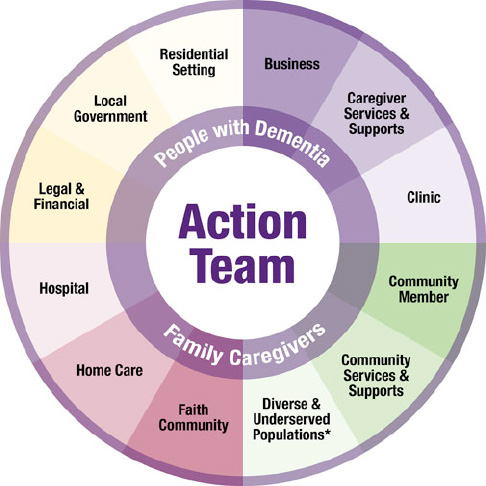 Meet with action team/community members and discuss gaps and strengths in the community
Generate awareness (How? Securing a logo provided by Dementia Friendly Iowa/Dementia Friendly America, launching social media, community kick-off event, local news)
Meet with action team to Identify actions/objectives based on existing strengths and gaps
Prioritize actions/objectives to create a more dementia friendly community (Pick only one or two to start to make goals attainable!)
Identify point person(s) for specific objectives 

Continue to work on objectives with action team/point people; repeat

 

phases 3 and 4 to identify and complete objectives 
We want to help you along the way!
Ideas for Community Action
Connect existing community strengths and resources
Create and offer education/trainings across sectors (long term care centers, businesses, faith-based organizations, etc)
Offer Dementia Friends Information Sessions
Create dementia-specific book club kits
Offer fidget kits/activity kits at the local library
Offer local screening of a dementia-related film
Work with local government to improve physical space in the community for people with dementia
Work with local schools to provide education about dementia
Provide a type of gathering or group for people living with dementia or their caregivers (activities, support group, memory cafes, etc.)
Offer dementia/memory screenings
The list above is simply examples of ideas. Action ideas should depend on gaps/strengths of the specific community.