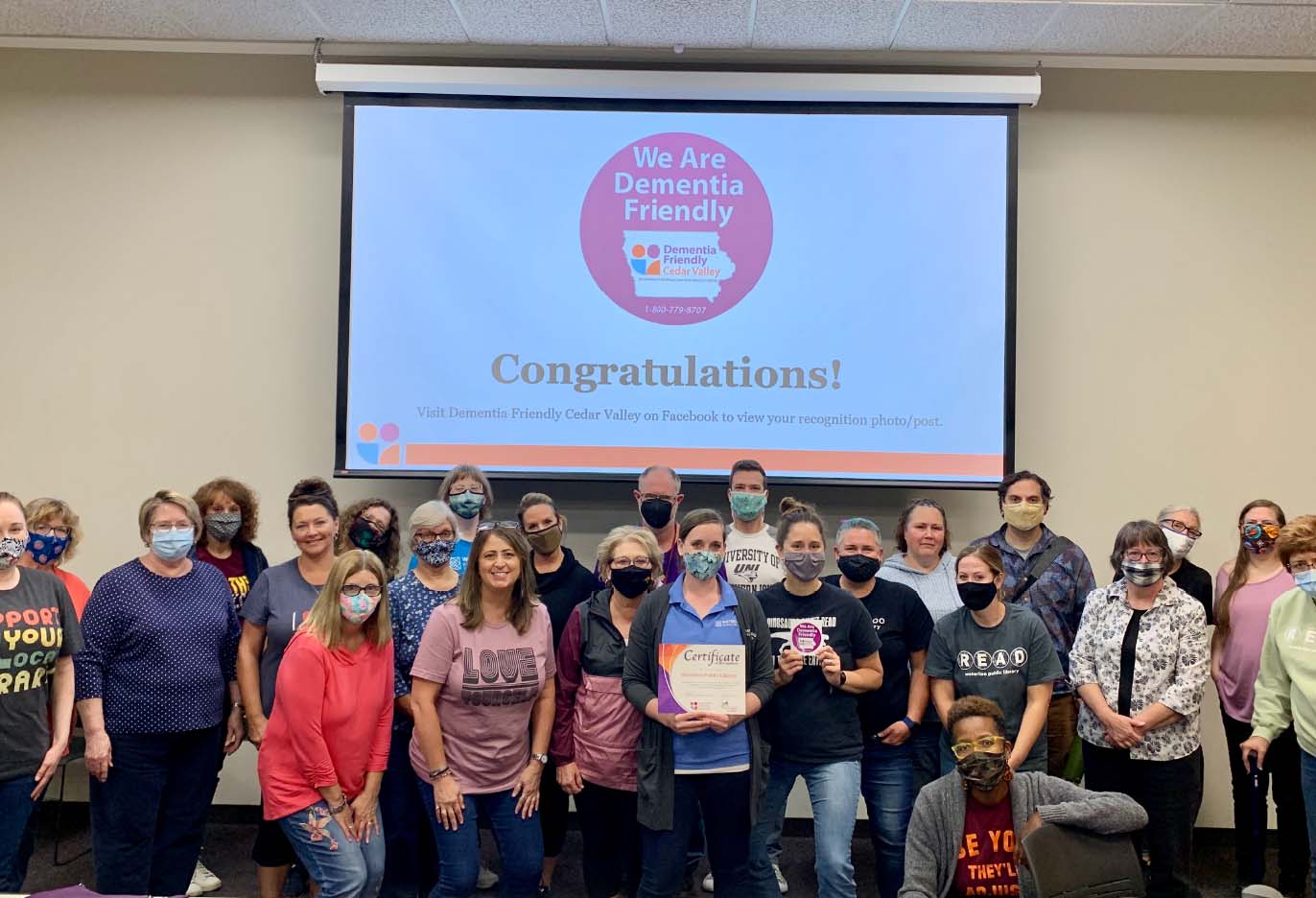 What is the process of building a more Dementia Friendly Community and joining the Dementia Friendly America network? 
Check out this FAQ List to learn more about becoming a Dementia Friendly Community.
Listed below is a simplified process is derived from the process suggested by Dementia Friendly America.
It is recommended that any interested community explore the Dementia Friendly America website as it provides helpful insight to the process, including readiness and recognition criteria.
Complete this form. Collect three or more letters of support representing different community sectors as well as a letter of support from state lead (Megan Zimmerman, NEI3A- mzimmerman@nei3a.org). When completed, send to info@dfamerica.org .
Process for Building a Dementia Friendly Community
Build a community action team; include people living with dementia
Identify a community lead or co-leads (local point person/people) for the action team! Click here for a Community Lead Role Description.
Join the Dementia Friendly America network by submitting application and letters mentioned above.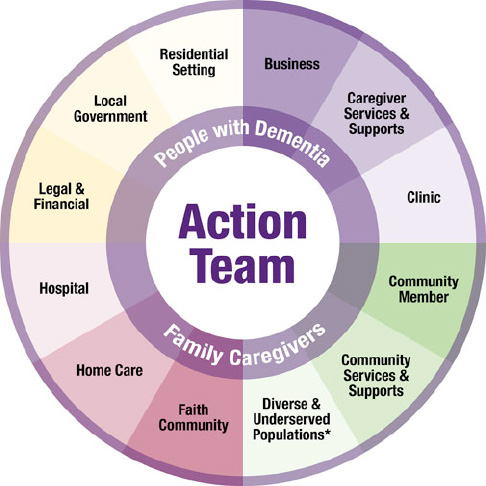 Meet with action team/community members and discuss gaps and strengths in the community
Generate awareness (How? Securing a logo provided by Dementia Friendly Iowa/Dementia Friendly America, launching social media, community kick-off event, local news)
Meet with action team to Identify actions/objectives based on existing strengths and gaps
Prioritize actions/objectives to create a more dementia friendly community (Pick only one or two to start to make goals attainable!)
Identify point person(s) for specific objectives 

Continue to work on objectives with action team/point people; repeat

 

phases 3 and 4 to identify and complete objectives 
We want to help you along the way!
Ideas for Community Action
Actions to increase community awareness & understanding 
Offer Dementia Friendly Business/Organization Training and Recognition (businesses, faith-based organizations, hair salons, restaurants, non-profits, transportation services, etc) 

*get trained as a Champion through Dementia Friendly Iowa first

Offer Dementia Friends Information Sessions to the public (local library, churches, services clubs, student groups, etc)

*get trained as a Champion through Dementia Friendly Iowa first

Partner with library to create dementia-related book club kits (

Still Alice, The Memory Box, etc)

Offer local screening of a dementia-related film such as

Alive Inside

Work with local schools to provide education about dementia to students

Promote a local "Dementia Friendly Community Week" (or day). Pack a week full of different ways for community members and organizations to get involved and/or learn about dementia

Develop a panel of people with dementia and past/current caregivers to share about their experiences at a local event

Offer a dementia simulation experience
Actions to collaborate with multiple sectors to better serve people living with dementia and care partners
Connect existing community strengths and resources; improve referral systems with the local health care centers and social service organizations

Create local dementia-related services list to distribute to clinics and social workers

Work with local government to improve physical space in the community for people with dementia 

Distribute Dementia Friendly Physical Environment checklists to organizations within the community
Actions to address the changing needs of people with dementia and their care partners 
Offer community memory screenings

Distribute a survey or hold focus groups to learn about the perspectives of people with dementia and caregivers in the community. Consider partnering with a local university to collect data

Partner with a local church/worship center to offer dementia-friendly worship services

Offer fidget kits/activity kits at the local library

Launch gathering opportunities for people living with dementia and/or their caregivers (activities, choir, support group, memory cafes, walking groups, program at local museum, dementia-friendly movie screenings, etc.)

Address other needs expressed by people with dementia such as social connection opportunities for people with younger onset dementia or access to respite care for caregivers
*These are simply examples of ideas. Action ideas should depend on gaps/strengths/resources/interest of the specific communit